This is what it looks like when installed in the Polysix. In order to suspend the board above the existing circuit boards in the bottom of the synthesiser, I used 1mm piano wire which I bent into shape and attached to four of the existing mounting screws. Note how one of the ribbon cables wraps around to plug into the 40-pin 8048 socket underneath the board.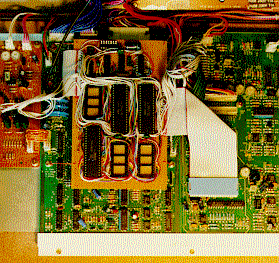 Note: in the pictures there are two diodes and a pullup resistor connected to the CPU reset pin. These are only needed when used with my Z80 development system, and are not included in the schematics or netlists.

PCB-based design
In order to build the CPU board using Martin Wise's PCB layout, you'll have to download a .zip file of the artworks. Within the .zip file, you'll find images of the copper traces and silk screen for the board, updated schematics and some notes on how to assemble it all, including a list of components. Once completed, the CPU board will look like this. It is mounted in the same position as the veroboard-based design.
---
This page is (c) Copyright 1999 by Ricard Wolf
Back to the Polysix M page.